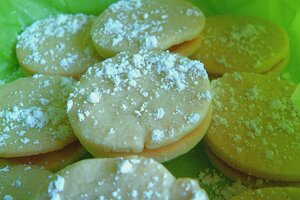 Kitchen Report
'Tis the season for lounging about on the grass. There's nothing like getting down low on a blanket under a leafy canopy, or a starry sky, or an illuminated cityscape and just … being. It's even better if food is within lazy reach.
These jam sandwich cookies are are great to pack up and take along if you heading to Shakespeare in the Park or an outdoor concert. They travel well, temper any tragedies you may be exposed to, and because they are sandwiches you can have eight cookies by tricking yourself into thinking that you are really only having four. Besides, the shows can be long and you need to keep your energy up.
I used apricot preserves, but you can choose whatever you like, maybe even use a variety of flavors. In case you are thinking, "I just don't have time to make cookies from scratch," I rose at 5:45 a.m. to start these and was only about 1/2 hour late for work. See? No problem. Totally worth it. Do it. Bravo. Now pass the cookies.
Jam Sandwich Cookies
From: "Country Living: Eating Outdoors"
3-1/4 cups flour
1-1/2 teaspoons baking powder
1/2 teaspoon salt
1-1/4 cups (2 1/2 sticks) unsalted butter
1 cup granulated sugar
1 large egg
1 tablespoon milk
2-1/2 teaspoons vanilla extract
12 ounces fruit preserves
2 teaspoons confectioners' sugar
Preheat oven to 375 degrees F. Line two pans with parchment paper, set aside.
---