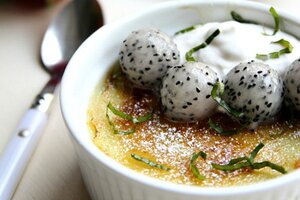 The Ravenous Couple
Kim loves custard desserts so after our soy panna cotta experience, she wanted to make something more rich, so a classic crème brûlée it was! A classic crème brûlée is smooth, creamy, and decadent so we opted not to fussy it up too much. However, we had a windfall of dragon fruit from Kim's aunt's garden which made for the perfect light and tropical fruit topping to contrast the richness of the creme brulée.
By coincidence, we also had a brand new kitchen gadget to play with as part of the Foodbuzz Tastemakers program. The Oxo egg beater. If you've ever used a regular egg beater you know that cleaning can be a pain. So what's so special about this one compared with your grandmother's? Well for one, the beaters are removable for quick clean up, but if a deeper cleaning is necessary, the entire base is removable and even dishwasher safe.
We love the fact that there's a stable bridge slightly longer than the beaters that rests in the bowl, allowing for smooth, frictionless beating to our hearts content. It's the perfect solution for light batters, eggs, whipping cream or whenever you don't feel like lugging out the stand mixer.
Use a melon baller to make pearls of dragon fruit and finish the dish with a dollop of tangy crème fraiche and bright mint and you've got a classic yet elegant dessert.
Crème Brûlée with Dragon Fruit Pearls
Inspired by Alton Brown, Good Eats
---