Stuffed spaghetti squash
(Read article summary)
Stuffed spaghetti squash makes a perfect and quick meal for one.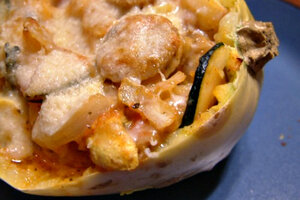 Kitchen Report
Sometimes squash can be intimidating. They are weird looking, require a huge knife to hack them open, and then take hours in the oven to roast and soften. Spaghetti squash are the smoothest of the squash family. Their flesh, when cooked, breaks apart in strings not unlike angel hair pasta. But don't be fooled. It is still a squash.
I just learned a great squash trick. You can soften a squash in 8 minutes in the microwave. Yes. Just halve it, scoop out the seeds, cover it in plastic wrap and nuke for 8 minutes. You'll want to let it rest a bit so you don't scald your fingers when you remove the plastic wrap.
I know. Something about "plastic wrap" and "nuke" doesn't seem quite right. You can always pop the squash into the oven for about an hour at 375 degrees F. face down on a rimmed baking sheet with a bit of water. Up to you. I rarely have the patience to wait an hour for my dinner by time I get home, especially if it is a night after swim practice.
A few days ago, I spotted a 2 lb. spaghetti squash at the corner market, a perfect size when cooking for one. So when I had just a half hour for dinner the other night before I needed to be out the door I knew it was a good night for stuffed spaghetti squash.
The other culinary quick step I've been enjoying lately is Italian sausage. It's an easy-to-cook menu item that adds flavor and can be portioned without a lot of fuss.
While the squash was spinning around in the microwave I cooked up onions, garlic, zucchini, summer squash, apples, and an Italian sausage on the stove top with some dried sage and marinara sauce. Then I added the squash, put the whole thing back into the squash skin, covered in it freshly grated cheese and popped it in the oven. About 15 minutes later, dinner was ready.
---