Spicy chorizo, pumpkin, and black bean chili
(Read article summary)
Dress your chili up as a Halloween crowd pleaser.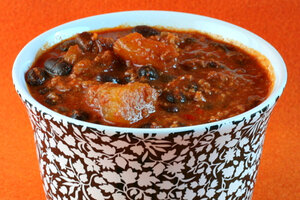 The Runaway Spoon
I love a good pumpkin dish for Halloween, and this one hits all the right notes. It's easy to make, reheats well after a busy night trick-or-treating and is packed full of flavor. It is also a Halloween appropriate blend of orange and black! And chili is always a crowd pleaser, and extra fun for a gathering if you provide fun toppings to customize each bowl like sour cream, lime, diced avocado, or tortilla chips. If you are industrious, save the seeds from the pumpkin and toast them with a little salt for a crunchy topper. You could even serve this chili over rice.
Look for small "pie" pumpkins, sometimes labeled sugar pumpkins. Sorry, but the flesh from your jack-o-lantern won't work. Those pumpkins are decorative and have tough flesh with little flavor. If your market sells pre-cut pumpkin, feel free to use it, and yes, you could substitute pre-cut butternut squash, though that takes out some of the Halloween authenticity. The cinnamon in this chili adds real depth and brings out the flavor of the pumpkin. It does not make it sweet or taste like cookies, I promise.
A word about chorizo: For this dish you'll use the more common Mexican chorizo, which is a soft uncooked sausage, not hard salami-like Spanish chorizo. I have found that the flavors of readily available chorizo vary enormously. I recommend a brand made in Mexico, which I find easily at my regular grocery store, or if you can, a freshly made variet from a Hispanic grocer. Choose mild over spicy if there is an option – you can always add spice, but you can't take it away. The brand I commonly find is packed with flavor and very spicy, so it requires little else to make this chili pack a punch. That is why I recommend cooking small bit of the chorizo first and tasting it. If you find it bland, add chili powder to taste, and even a little hot sauce if you feel the need.
Spicy Chorizo, Pumpkin and Black Bean Chili
Serves 6 – 8
---