Oven roasted wings
(Read article summary)
Korean hot pepper paste, rice vinegar, soy sauce, sesame oil, garlic and ginger make oven roasted Korean Style Chicken Wings a flavorful appetizer, main course, or snack.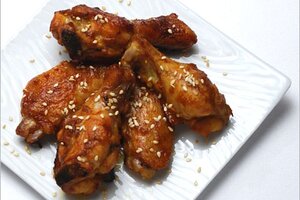 Blue Kitchen
The first time we had Korean fried chicken wings, we were at a rooftop bar in Manhattan. It was the Mé Bar on the 14th floor of the La Quinta Manhattan in Koreatown, with the Empire State Building rising high above us just a block away. And it was a single wing, generously pressed upon us by a table of enterprising New Yorkers who'd had them delivered to the bar (New Yorkers seem to be able to get just about anything delivered just about anywhere). We had smelled something spicy and delicious and asked what it was. They insisted we sample one.
The next day, we headed to the source for lunch – Kyochon Chicken, at Fifth Avenue and 32nd Street. How good were the wings? On our next visit to New York, we went straight from Penn Station to Kyochon, stowed our luggage in the corner and chowed down.
The wings at Kyochon are deep fried twice – "double fried" – to render out fat and make them extra crispy, a process pioneered by founder and chairman Won-Kang Kwon. They're then hand brushed with one of two signature sauces, Soy Garlic and Hot & Sweet. We order both and share them. And lick our fingers greedily before reluctantly using the provided wet naps.
---