Butternut squash tart with carmelized onions
(Read article summary)
A lunch dish to celebrate a beautiful fall in a new city.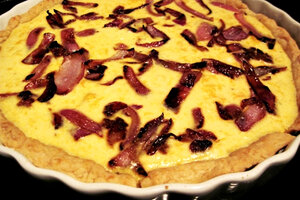 nestMeg
I've officially lived in New York City for one month.
I want to say that I've been putting my beautiful black-counter-topped, white-subway-tiled kitchen with cherry cabinets and gas stove to good use on a regular basis, but shoot, kids. I live in New York City. Do you even know how much food exists here? I experience moments of overwhelming anxiety whenever I consider how many restaurants I have to eat at while my metabolism still allows for reckless eating. It's a rough life.
Also, I'm in love with Brooklyn. In love. I see no reason to leave on the weekends when there are flea markets and food markets and farmers markets to be visited and general exploring to be done.
But, every Sunday, I make lunch for the week. This was last week's lunch. Sometimes I even paired it with salad.
Butternut Squash Tart with Caramelized Onions
Makes one 9-inch tart
Tart Crust
1-1/2 cups all purpose flour
1/2 teaspoon salt
6 tablespoons chilled unsalted butter, cut into 1/2-inch cubes
3 tablespoons chilled solid vegetable shortening, cut into 1/2-inch cubes
4 tablespoons ice water
Tart Filling
Olive oil
1 small butternut squash
1 red onion, sliced
1 tablespoon balsamic vinegar
2 eggs
3 tablespoons sour cream
3 tablespoons heavy cream
4 ounces goat cheese
1/4 teaspoon cayenne pepper
1/4 teaspoon pepper
---