Herb and lavender-stuffed standing pork loin rib roast
(Read article summary)
The kind of dish that makes you want to friend your local butcher.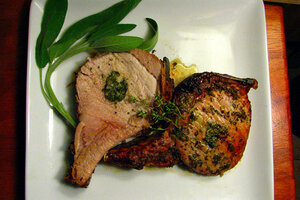 We Are Never Full
I feel kinda cheesy. I admit it, I feel cool about using a butcher. I understand this is lame and that butchers have been around for ages, but, truthfully, in the recent year, we've really gotten to know our neighborhood butchers. Growing up in the 'burbs, meat was only bought pre-cut and pre-packaged. Yes, every once in awhile you'd see the grocery store's butcher come out from behind those weird black, plastic doors with the small square window.
After our first attempt at making homemade sausage, I realized how invaluable a butcher is. We live in a country where many people don't know what kind of animal their meat comes from. Hold up an eggplant to a 10-year old and good chance they may not even know what the hell it is. It's sad that the neighborhood butcher is starting to become a thing of the past. I live in Brooklyn, NY, one of the most multicultural places on earth and, in my 'hood alone we only have a few butchers left. I'm talking about the neighborhood butcher, not that gourmet food store up the street. You know the place – the guy/gal behind the counter has butchers hands and fingers, you know his/her name and he/she knows your name, they don't switch employees as quickly as McDonald's and they can easily ask you if you want "the regular." Word is that the decline in these gems is because young people aren't interested in carrying on the family trade. Maybe with this economic downward spiral Americans will be more willing to work with their hands again and see the beauty how happy meat/poultry can make people.
Jonny and I have wanted to try and make a dish that we ate in Florence, Italy at the awesome Coco Lezzone since the last time we recreated their Pappa al Pomodoro. It was one of those meals from start to finish that will forever stay etched in my mind. Saveur did a cover story on their Herb-Stuffed Pork Loin in their April 2006 issue. We tweaked the recipe just a bit (lavender wasn't a part of the original recipe) and, thanks to our awesome butcher, the dish turned out phenomenally.
---