Food makeover: How to set up your 'real food' kitchen
(Read article summary)
Use the New Year as an opportunity for a new start in your kitchen.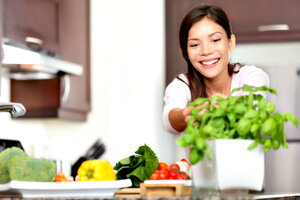 Beyond The Peel
OK, let me just say right off the go that this might not be easy for you if your house is full of processed food. Don't worry, I'll break it down into manageable steps. I'll be your healthy eating guide and help to make this process as simple and painless as possible. There are two ways to set up a whole food kitchen (that's fancy talk for having a kitchen stocked with real food).
Option 1 – Get It Over With
The first way is like ripping off a band aid. Do it fast in one quick motion, shake it off and move on to the the next step, just getting it all done at once. The pain will pass. This option involves going through your kitchen, taking all the processed food out of the cupboards, out of the fridge and freezer, donating what you can and throwing away everything else in one fell swoop. If this sounds wasteful to you, well so is putting that food into your body. Sound harsh? Well, maybe it is but it's true. Many of our excuses for making food changes are masks for our addiction to high sugar, high sodium foods, and highly processed foods. If you choose Option 1, then tick off the 5 steps listed below all in one go.
Option 2 – Let Me Ease Into This
The second way to give your kitchen a whole foods makeover is to do it in incremental steps. A little more painful if you ask me, but it may seem more manageable if fear or doubt are controlling factors. These might take the form of: "I don't know how to cook." "I don't know how to cook from scratch." "I don't even know where to shop for that kind of food." "I don't have the time to cook," etc. Don't worry, those fears are the same fears that prevent us from change in any area of our lives and they are just that, fears. Totally normal and you can just walk right through them since these are simple skills that anyone can learn. For this method, follow the Band Aid Technique but instead of dealing with the fridge, freezer, and pantry all at once, split it into three steps. Or if that seems too much, make a plan to exchange four processed foods in your house with four non-processed foods every week.
Ready? Good.
Step 1 – Box That Junk
---