Meatless Monday: Winter squash and bean stew
(Read article summary)
A hearty bean and squash stew that will last throughout the week.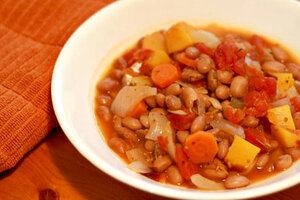 Novel Eats
Every Sunday I usually like to make a big pot of beans or soup for us to have for lunches during at least the first half of the week. It makes meals infinitely easier, and allows me to not have to think about what I'm going to eat while I'm in the middle of work. Because I do this fairly consistently, I do like to try new recipes and mix things up a bit.
When I found this recipe for stew, I knew I had to try it. For one thing, I don't make stews very often, but I do really enjoy them. Another reason was because I still had a lot of my hubbard squash leftover, and I needed to use it. The final thing that drew me in? Chipotle. I love chipotle, mostly for its smoky flavor, but for its extraordinary heat as well. I was excited to try this combo of flavors.
This was such a hearty stew, and perfect to eat throughout the week. The only thing that I might add next time is some textured vegetable protein (TVP) or some Tofurky Kielbasa or Tofurky Italian Sausage to bulk it up more. Otherwise, it's a great stew and perfect to serve to your favorite omnivores.
Winter Squash and Bean Stew
This recipe is taken from the Hubbard Squash and Pinto Bean Stew found on MyRecipes.com
Note: One nice thing about this recipe is that it does not require the use of a slow-cooker if you do not have one, although I am sure this would also cook nicely in one.
3 cups dried pinto beans
4 cups water
3 tablespoons olive oil
2 medium-sized onions, chopped
4 cups (1/2-inch) cubed peeled hubbard squash or fresh pumpkin
1 cup peeled and sliced carrot, about two medium-sized carrots
1 tablespoon chipotle chile in adobo sauce, chopped (for a gluten-free recipe, you can substitute about 1 teaspoon chipotle pepper powder)
2 tablespoons chopped fresh or 2 teaspoons dried sage
1 tablespoon chopped fresh or 1 teaspoon dried thyme
1 28-ounce can crushed tomatoes, undrained
3/4 teaspoon salt
2 tablespoons pumpkin-seed kernels, toasted (optional)
---