Meatless Monday: How to make spaetzle
(Read article summary)
Spaetzle is a traditional German dumpling or noodle boiled in water or broth then pan fried in butter.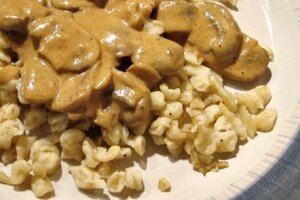 The Rowdy Chowgirl
Making homemade spaetzle is not particularly difficult and well worth a small investment of time. The irregular little dumplings are also called "little sparrows," as they are shaped somewhat like a little bird, with a pointy end resembling a beak, from where the dough drops into boiling water to cook. They are excellent served simply with browned butter, salt and pepper, but also serve as an ideal stand in for rice or pasta as a base for a sauce.
I've had a spaetzle maker languishing in my pantry for months, after I bought it online in a burst of enthusiasm, then got distracted by other projects. I normally resist kitchen gadgets – particularly the single use variety – but the spaetzle maker was only about $10, and well worth every penny.
With the new year, my interest in spaetzle was renewed, partly by a visit to a new German restaurant in town.
There are a lot of spaetzle recipes out there, all generally a combination of eggs, flour, and liquid. The best recipe is probably the one your grandmother used, should you be lucky enough to have a grandmother who made spaetzle. If not, this recipe makes consistently lightly chewy "little sparrows" that are good enough to eat straight out of the bowl with your fingers.
The key thing is to get the thickness of the batter right, which means adjusting the amount of water you use judiciously, as flour can vary quite a bit in moisture content. After resting in the refrigerator, it should be shiny smooth and thicker than pancake batter but thinner than frosting, a little stretchy but still fluid enough to plop off a spoon.
---