A delicate balance of New England shellfish, world flavors: curried mussels with cilantro
(Read article summary)
Curry powder, garlic, shallots, coconut milk, wine and cilantro blend into a surprisingly delicate broth for steamed mussels.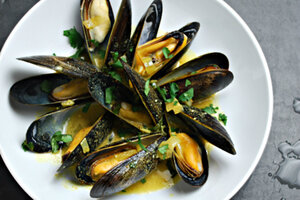 Blue Kitchen
One of the things I love about cooking is the prep work, getting everything chopped, minced, measured and ready to go. I still remember the first time, years ago, that I did a proper mise en place, organizing everything I would need before turning on the flame under the pan. Seeing the five or six little bowls of ingredients lined up on the counter, I could tell I had taken a step forward in my cooking.
An added bonus of doing the prep work, certainly with this dish, is all the wonderful aromas that take over. Garlic, shallot, cilantro, the lemongrass as you smash it with the side of the knife, the curry powder as you spoon it into a waiting ramekin…. Their fragrances come in waves as you work, layering together and hinting at the flavors you'll soon be enjoying.
I've cooked mussels here a number of times. They're inexpensive, especially for seafood, fun and elegantly messy to eat with your hands and so delicious. Their mild brininess blends beautifully with any number of flavors. And mussels cook up quickly. Once they hit the pan, you're five to 10 minutes from dinner.
Mussels are also that extremely rare find – sustainably farmed seafood. I've written about that before here, but it bears repeating. Mussels don't need to be fed other seafood; they filter their sustenance from the water around them. So they actually clean the water, instead of polluting it as some farmed seafood does. Monterey Bay Aquarium's Seafood Watch, the go-to authority on seafood sustainability, calls farmed mussels a Best Choice. Most American-farmed mussels come from the coast of Maine.
---