Bastille Day is perfect for mussels, frites
(Read article summary)
Bastille Day is July 14. Celebrate France and its culinary contributions with this classic pair.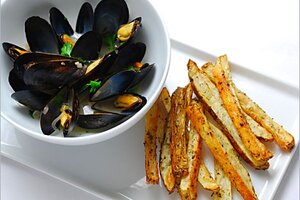 Blue Kitchen
"Lafayette, we are here." Those famous words, marking our returning the favor to France in World War I for their vital assistance in our Revolutionary War, were undoubtedly followed by the less well known, "Now, when do we eat?"
Because in addition to contributing to American independence, the French are rightly far more known for their contributions to food and cooking. And not just for their stellar, elaborate concoctions. It's more their understanding of how a few well-chosen ingredients perfectly combined can become something wonderful – and their daily celebration of food in even the simplest dishes. Bastille Day (July 14) is all the excuse I need to feed my inner Francophile in the kitchen.
Mussels are quintessentially French. While they're caught or farmed and served around much of the world, they're absolutely ubiquitous in French bistros. Moules Marinières, also known as sailor's mussels and cooked in a white wine sauce, is as much of a menu fixture as steak frites. Mussels are mild in flavor and because, like lobsters, they're sold live, absolutely fresh tasting. They make for beautiful presentation, too, appearing far more elegant than their low price might suggest.
And of ever-growing importance as many fish species are threatened by overfishing, they're sustainable. In fact, according to the Monterey Bay Aquarium's Seafood Watch, the go-to authority on seafood sustainability, they are a Best Choice. Most commercially available mussels are farmed these days. While aquaculture can be an environmental disaster with certain species, here's what Seafood Watch says about mussels farming: "The U.S. imports most of its mussels from developed nations with stringent environmental regulations. As with related species – scallops, oysters and clams – farming methods for mussels are environmentally sound. Mussels do not rely on fishmeal or fish oil as part of their diet. Diseases are rare, so antibiotics and chemicals aren't necessary, and the farming operation often benefits the surrounding marine habitat."
---
Follow Stories Like This
Get the Monitor stories you care about delivered to your inbox.