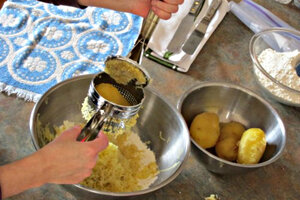 The Rowdy Chowgirl
One of my food goals for 2012 was to try my hand at making gnocchi from scratch. I love these little potato dumplings, whether served with a simple marinara sauce, sage and browned butter, or lamb ragu. I bought a gnocchi board just to encourage myself, but it languished in the pantry for a few months awaiting the right opportunity. Last weekend, that opportunity came.
I spent a recent weekend with my friend Christie in Eastern Washington, and Saturday was gnocchi making day. We went over to the home of her friends Pete and Jewel late in the morning. Jewel is a cook of extraordinary calibre, and was gracious enough to teach us how to make Pete's mother's gnocchi, also known as Cavatele, or "sinkers" – a reference to the lead sinkers put on fishing lines. Gnocchi can have that effect, filling the tummy surprisingly quickly.
Jewel had done some advance work in the kitchen. A crockpot of sauce burbled on the counter. A cauldron of potatoes boiled on the stovetop. And the large center island was already stacked with eggs, flour, bowls, and utensils.
When the potatoes were done, we peeled them while they were still hot, then shot them through a ricer into a bowl of flour. We sifted and stirred this mixture with our hands until the potatoes were incorporated into the flour and cooled enough to not cook the eggs. Jewel warned us not to mash the potatoes into the flour, so we tried to use a light touch.
---