Butter + leeks = delicious: Scallops with melted leeks and egg noodles
(Read article summary)
Try "melting" leeks by cooking them slowly in butter. They're a sweet complement to sautéed scallops and pasta.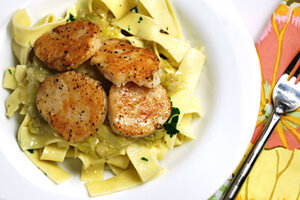 Blue Kitchen
We've used leeks any number of ways here. Sautéed, puréed in soups, braised with duck legs, baked into tarts and quiches, even cooked almost whole as a side dish. But melted?
That's how they were served with a nicely cooked piece of halibut when we ate at Frontier in Chicago's West Town neighborhood recently. As delicious as the fish was on its own, the melted leeks took it to a whole new place. We knew we'd be trying something with them here soon.
In their simplest, purest form, melted leeks are leeks cooked in butter over low heat for a long time. Unlike caramelizing, where you use higher heat to deeply brown onions or other vegetables, this is more of an extreme sweating process. As you can see with the leeks peeking out from under the scallops above, they barely color. The long, low cooking makes them meltingly soft (hence the name) and brings out their sweetness. A splash of lemon juice at the end balances the butter's richness. The result is a sweet, luxurious accompaniment perfect for just about any seafood.
There are any number of recipes out there for melted leeks. Some call for boiling the leeks first for nearly half an hour. I think this would just drain them of lots of their flavor, and leeks are already quite mild. Writer Regina Schrambling beautifully describes them as the gentle giants of the onion family. If you've never cooked with them, their imposing appearance can be daunting. But their taste is absolutely civilized.
Scallops were Marion's call as we discussed what to do with melted leeks on the way home from Frontier. As were the egg noodles. In fact, this post might have been hers, but I was the one with more time for the kitchen this weekend. Scallops are always fun to work with. They cook quickly and are practically impossible to screw up (unless you don't cook them quickly). They're rich and meaty, with a slight sweetness. And they just look cool, with their drumlike shape. Here, I halved them so they wouldn't overwhelm the pasta. It also made them easier to eat; you can cut them with just the side of the fork.
---