2012 World Pastry Championship
(Read article summary)
The Olympics of the pastry world was full of astonishing deserts and sometimes tragic results.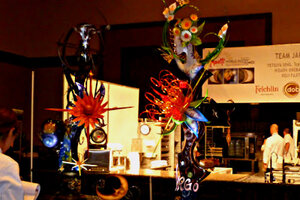 The Pastry Chef's Baking
I just got back from a mini vacation – I went to the 2012 World Pastry Championship in Las Vegas, N.V. It's been on my bucket list for over 10 years to watch the competition in person and I finally, finally was able to go. It's held every other year and when it's not the World Pastry Championship, it's the National Pastry Championship for the US teams.
But this year was the world competition and the teams competing were from Japan, Mexico, South Korea, Netherlands, China, and USA. This is the Olympics of the pastry world. And there certainly were some Olympian chefs there.
Check out the link so you can see what the competition is about – each team has 13 hours, spread over 2 days, to come up with a set of plated desserts to be judged on Day 1 then a sugar showpiece, a chocolate showpiece and petits gateaux for Day 2. And trust me, this is no easy feat. These chefs are amazing, every single one of them. I am no expert but during culinary school, I did enough sugar work and chocolate work to know how hard it is and the kind of skill you have to have to even make it to this competition. It takes years of experience and practice. Some teams practiced for the 13-hour competition with as many as 30 or more 13-hour practice runs of their own for a year and a half. Imagine that kind of dedication in addition to doing your day job.

Day 1 was mostly a lot of prep for Day 2 although they did complete the plated desserts in time for judging. It was fascinating to watch the chefs in action. No movements were wasted, it wasn't the flurry and drama you sometimes see on Food Network (ahem, "Chopped," "Cupcake Wars," etc); instead everything was streamlined efficiency. As soon as one task was done, they began another. They were also judged on how they worked and it was impressive to see sponge cakes being made (often the base for the plated desserts) swiftly, wrapped up, station cleaned, then pastry cream – make, wrap, put away, clean – then mousses and fillings. Each member of the team had their own jobs to do and they were focused.
---