How to make corn broth
(Read article summary)
Don't throw away the husks, silks, and cobs the next time you cook fresh corn on the cob. Transform them into a light, delicious broth for summer soups.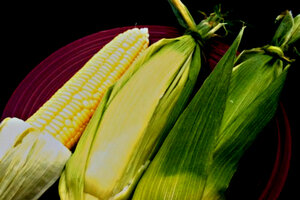 The Rowdy Chowgirl
We wait for so many things in life, whether with dread or anticipation. We check our watches and flip through magazines waiting for our name to be called. We sit at a restaurant bar, dressed up and hopeful, and glance toward the door with fluttering heart each time it opens. Is that him?
And we wait for summer. That wait gets shorter every year it seems, as the seasons fly by in a blurry montage rather than creeping along as they did when I was younger.
Just like that, it is mid-summer and corn season again. Out of the gigantic cardboard box at the produce store, I selected six fat ears of corn. On Sunday, after a long lazy afternoon spent lolling on a picnic blanket in the park, we put them on the grill. Rather than cooking the ears straight on the grill in their husks as I normally would, I peeled back the husks, removed the silks, then tugged the husks back into place. I soaked them in water for about a half hour, then rolled them in foil before placing them on the grill in order to prevent the husks charring.
We ate two ears of corn with our dinner. I husked all the corn, cutting off the funky brown parts of the silk at the top, but otherwise saving the husks and silk. I cut the remaining four ears of corn off the cobs, and saved those cobs and all of the husks and silks in the refrigerator. The next evening, I made corn broth. The inspiration for this came from a wonderful cookbook I've been reading, "Serve Yourself: Nightly Adventures in Cooking for One" by Joe Yonan.
---