Meatless Monday: Quinoa-stuffed baby eggplant
(Read article summary)
Combine quinoa with sun-dried tomatoes, garlic, and goat cheese for a savory dinner, side dish, or lunch.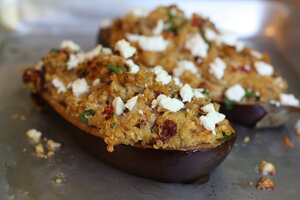 The Gourmand Mom
Up until a couple years ago, quinoa was relatively unheard of. It certainly wasn't something my family ate when I was growing up and I rarely ran across it on restaurant menus, cookbooks or online. And then, seemingly out of nowhere, quinoa seemed to explode onto the food scene. Suddenly, quinoa is everywhere. It's actually been on a gradual rise in popularity over the past several years and now this trendy pseudograin has found a place with the cool kids, right next to cupcakes and macarons.
Despite it's relatively new popularity, there's actually nothing new about quinoa. On the contrary, it was once considered a sacred food source of the ancient Incas. And with good reason. Quinoa is high in protein and unique in the realm of vegetable proteins for its notable lysine content. Containing all eight essential amino acids, quinoa is considered to be a complete protein, which is especially attractive for people looking to get their protein from non-meat sources. It's also high in fiber, vitamins, and minerals, gluten-free, wheat-free, and easily digestible. It's truly a nutritional superfood.
A few years ago, after reading an article touting the awesomeness of quinoa, I ran to the store, bought myself a bag and prepared it with dried fruits and a bit of honey for breakfast. To be honest, I was less than thrilled with the result and hadn't prepared it since; until yesterday, that is.
Inspired by the request of a friend, I decided to give it another try. This time, I went with a savory preparation, incorporating some of my favorite flavors; sun-dried tomatoes, garlic, and goat cheese. I stuffed all of this delicious goodness into a baby eggplant and the result was phenomenal. Seriously delicious! Have it for lunch or make it as a side dish for dinner. You'll be happy you did.
---