Meatless Monday: Apple cheddar tart with caramelized onions
(Read article summary)
Crisp apples, sharp cheddar, sweet onions, fresh herbs, and crunchy pine nuts on a puff pastry tart.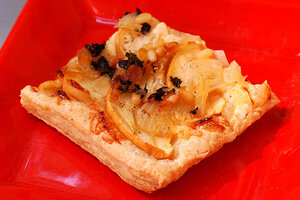 Garden of Eating
Oh, hallo there, fall. You bittersweet time of year with your clear blue skies, brisk breezes, dancing sunshine, leaves of crimson, amber, and gold. So beautiful, crisp, and cozy – and so undeniably the last gasp before winter sets in. Have I mentioned that I do not care for the cold?
But autumn does bring the most delectable apples, and my feelings about them, at least, are entirely positive.
Here's a super simple, easy way of enjoying the season's apples that is a sure crowd pleaser and picky-eater teaser and looks really fancy and involved.
The secret is to use frozen puff pastry dough. Of course, you can make your own pastry dough if you've got time to kill and two hands free at the same time (not so here these days) and it's possible that it might taste even better but I can't offer you any guarantees on that.
I've had great results with DuFour's puff pastry and apparently their dough is one of the best money can buy. But I think this tart would be tasty with any puff pastry because of all the butter, no matter what brand you use. Just don't forget to factor in time for the store bought pastry to defrost.
Use a crisp, sweet-tart apple such as Macoun, Mutsu, Cortland, Northern Spy, or Granny Smith. There are dozens of good varieties available at this time of year, at least here in New York – the apple bin of the country. Do not skimp on the onions as they provide such delicious sweet flavor. Plus, I am always amazed by how much they reduce during the caramelization. Lots of fresh herbs give the tart a pleasant hint of freshness amid all that wonderfully melty cheese and buttery pastry.
---