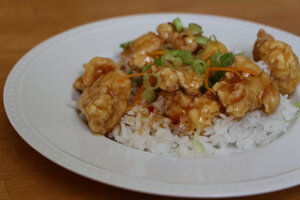 The Gourmand Mom
I just adore orange chicken and its sticky sweet and slightly spicy sauce coating chunks of crispy chicken. As I planned the menu for this little ninja birthday party, it seemed like the perfect fit for a big group of adults and young children. It's a dish I've eaten often and made never.
So, I did a bit of researching. The big surprise for me was that some of the recipes contained not a bit of orange – no juice, no extract, no peel. Many recipes contained more sugar than anything else. And though those recipes may be successful at reproducing the familiar orange chicken flavor from your favorite Chinese takeout restaurant, I just can't come to grips with an orange chicken recipe made without orange.
So, I played around a bit and came up with the following recipe. It's pleasingly sweet, just a bit spicy, and packed with a good dose of authentic orange flavor. Prior to frying, the chicken is marinated in a soy-ginger-orange marinade, then dipped in egg, and coated with cornstarch. A simple sauce, made with orange juice and fresh zest is accented with Asian flavors then thickened to the consistency of a glaze with a bit of cornstarch. Definitely a crowd-pleaser!
Cornstarch is an effective (and gluten-free) thickener which can be used in a variety of recipes, including sauces, gravy, pudding, and fruit pie filling. It adds no flavor of its own and produces a clear glaze, as compared with the cloudy effect of a butter/flour roux.
In general, about 1 tablespoon of cornstarch can be used to thicken 1 cup of liquid. To effectively blend the cornstarch into the liquid to be thickened, you should start by making a slurry, which is simply a mixture of the cornstarch with a bit of cold liquid (usually water). This step prevents the cornstarch from clumping when added to the hot liquid. Add the slurry to the liquid you wish to thicken, then bring to a simmer for a minute or two until the liquid thickens.
Orange Chicken
For the Chicken:
1 pound boneless, skinless chicken breasts, cut into 1-inch chunks
1/4 cup soy sauce
1/4 cup orange juice
1 teaspoon fresh ginger, grated
2 eggs, lightly beaten
3/4 cup cornstarch
1/2 teaspoon salt
Vegetable oil, for frying
---