A delicious fall dessert: baked apples
(Read article summary)
Baked apples stuffed with brown sugar, spices, candied ginger, and toasted pecans are a perfect seasonal treat. They're even better when topped with vanilla ice cream.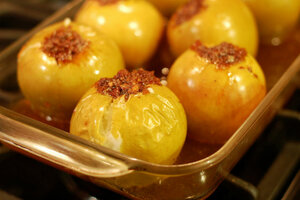 The Garden of Eating
My big brother and my two adorable nieces are in town for a little visit this week so I handed the baby off to his dad during our older son's nap in order to pull together a simple but tasty dinner of grilled cheeseburgers with avocado and tomato, the world's best oven fries, a green salad with dried cranberries and toasted pepitas, and even (gasp!) dessert.

I decided to make baked apples for three reasons: (1) They are yummy and comforting and warm, (2) It is apple season and the Hudson Valley is bursting with delicious, crisp, sweet-tart fruit, and, (3) Perhaps most importantly, they are amazingly easy to make.
I think baked apples are good pretty much any way but I included crystallized ginger to spice things up a bit (my husband loves ginger) along with some toasted pecans we had leftover from another meal.
The rest was easy – brown sugar, cinnamon, nutmeg, cloves, butter, and some fresh apple cider that we got at a wonderful cider press party we'd gone to a few days earlier.
I mixed up the filling in a bowl and then cored the apples, stopping an inch above the bottom to avoid going all the way through. I stuffed the apples with the filling and topped them with butter. I arranged them in a baking dish so that none would tip over while baking, and poured some cider into the bottom of the dish. Finally, I topped the whole dish with foil and put the apples into the oven for a while.
My advice: Eat with ice cream. The wonderful syrupy, spiced cider mix perfectly with the melting vanilla ice cream – it makes a great companion to the soft, sweet, slightly tart flesh of the apple and the sugary, nutty, gingery filling. It's simply a delightful and easy-to-make fall treat!
---