Pumpkin raisin muffins
(Read article summary)
Plump raisins in a pumpkin muffin with just a hint of toasted nuts.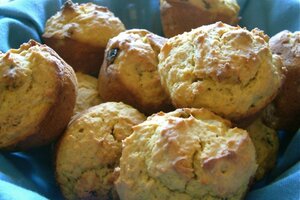 Kitchen Report
Every fall, a pumpkin turns up in our lobby with my name on it. It's from the seller's agent who sold me my condo years ago. The little sugar pumpkin usually appears bearing a recipe printed on orange paper rolled up in a scroll and rubber banded to its stem and a happy face penned in black marker.
Last year Miss Pumpkin even had a little Halloween bling with frilly black and orange ribbons. Fancy, Miss Pumpkin!
I decided I wanted to try making my own Miss Pumpkin purée for the attached recipe: Pumpkin and Raisin Muffins.
My first batch of pumpkin raisin muffins was a little underwhelming in flavor. Maybe it's because I had softened the pumpkin in the microwave like I have done for spaghetti squash in order to purée it. I still had half of Miss Pumpkin left. So for the second batch I tried roasting the pumpkin, based on the instructions from The Gourmand Mom.
I also thought a nutty flavor would add an interesting secondary note to an otherwise ordinary muffin. I didn't have quite enough walnuts so I combined toasted walnuts and hazelnuts and then grated them until fine in my mini food processor.
The end result was delicious! Plump raisins in a pumpkin-y muffin with just a hint of toasted nuts.
---