Italian sausage and pumpkin manicotti
(Read article summary)
Warm up on a chilly evening with this cheesy, meaty, pumpkin-y manicotti. The prep work can all be done ahead of time so the dish is ready to pop in the oven after school or work, or even after trick-or-treating.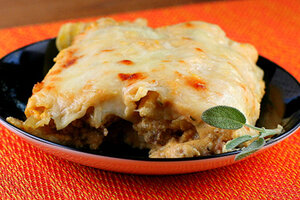 The Runaway Spoon
As I remember it, trick-or-treating is hard work. Lots of walking, in what is invariably an uncomfortable costume, that heavy bag of candy and keeping your best manners on under all that stress.
But the promise of a seemingly endless supply of fun-size candy bars made it all worthwhile. I even liked the stripey, crunchy peanut butter Mary Janes and the peanut taffy in the orange and black wrappers. Then there was the dentist down the street, who gave the "special" neighborhood kids a toothbrush, while any other kids got granola bars.
So after a hard slog of candy hunting, it's nice to come home to warm, comforting seasonal dinner. And what could be more perfect on Halloween than pumpkin? This creamy, cheesy casserole can be made ahead, and popped in the oven to cook while you're out and about. The meaty sausage and melty cheese are perfect, with a subtle pumpkin flavor that will satisfy little tummies (and grown-up appetites) before the sugar rush sets in.
Creamy Italian sausage and pumpkin manicotti
Serves 6 to 8
For the manicotti:
1 (8-ounce) package manicotti pasta shells
1 pound sweet Italian sausage, bulk or casings removed
1 medium yellow onion, diced
2 cloves garlic, minced
7 fresh sage leaves, chopped
1 (15-ounce) container ricotta cheese
1 cup pumpkin purée, from a 15-ounce can
1 cup shredded parmesan cheese
2 cups shredded mozzarella or Italian cheese blend
For the pumpkin sage béchamel sauce:
2 tablespoons butter
2 tablespoons flour
2 cups milk
1/4 teaspoon nutmeg
10 fresh sage leaves, very finely chopped
3/4 cup pumpkin puree (the remainder from the manicotti recipe)
salt and pepper to taste
For the manicotti:
Bring a large pot of salted water to a boil and cook the manicotti according to the package instructions. Cook the manicotti about 2 minute less than the recommended cooking time. Drain the manicotti and rinse thoroughly with cold water to prevent sticking.
---