Two recipes for pumpkin seeds
(Read article summary)
Looking for new ideas to make use of pumpkin seeds? Here are two recipes that use pumpkin seeds to enhance tasty fall dishes.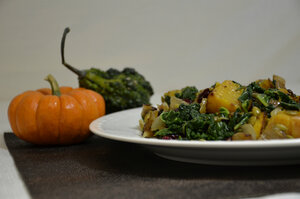 Courtesy of Westside Market
Carving pumpkins kicks off the holiday season in my mind. Before giving thanks, or crossing off names on your holiday gift list, scooping out the gloppy, messy seeds from a pumpkin to create a smiling jack-o'-lantern is just plain fun. But this year – wait before you toss out those "guts"!
Westside Market in New York City wrote to Stir It Up! sharing ideas for using "the whole pumpkin." Westside Market in New York City was founded by the Zoitas family, who arrived in the United States from Greece more than 45 years ago and set up their neighborhood store based on a love of fresh-grown produce and authentic cooking. Maria Zoitas, creator of "Maria's Homemade," a line of prepared food, created these pumpkin seed recipes for the fall dinner table.
Sure, you can take the traditional route of just roasting pumpkin seeds, sometimes called pepitas, and eating them straight from the bowl as a snack. But oven roasted butternut squash with roasted pumpkin seeds and pumpkin seed crusted chicken also sound delicious. These recipes bring the humble pumpkin seed onto a sophisticated culinary stage – and demand dexterity from the cook.
To toast your pumpkin seeds, simply rinse off the seeds and spread them out on a baking sheet coated with a little olive oil in a 400 degrees F. oven for about 10-15 minutes.
---