Homemade sweet-and-sour pork
(Read article summary)
Order this dish at a Chinese take-out place and it may be a greasy, battered mess. But with a nice butt or shoulder cut of pork, simple ingredients, and a light sauce, sweet-and-sour pork gets a homemade makeover.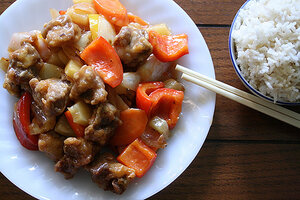 The Asian Grandmothers Cookbook
We've all had sweet and sour pork at some point or another. If you, like me, have been put off this dish by its greasy battered pork doused in pink glow-in-the-dark sauce served at a Chinese-American restaurant and/or the supermarket deli counter, take heart, there is hope yet!
I was actually surprised to find out that sweet and sour pork is a bona fide Cantonese dish. It's just that many restaurants in North American do a lousy job when making it.
Some say it originates from a traditional Jiangsu pork dish made with a sugar and vinegar sauce (tang chu li ji) and it is closely related to sweet-and-sour spare ribs (tang chu pai gu). Sweet and sour pork probably spread to the United States in the early 20th century when Chinese migrant gold miners and railroad workers swapped trades and started cooking. And from thereon it permeated the country and is now a standard item on every Chinese-American menu.
Try this sweet-and-sour pork recipe and you'll look at this oft-vilified dish with entirely new eyes and your tastebuds will thank you for it.
Sweet and sour pork (Gu Lao Rou)
There are endless variations of this quintessential Chinese dish but it always tastes best homemade. The pork cut of choice is pork butt or shoulder – not too lean, not too fatty. Other cuts may be leaner but they often turn tough and chewy when fried. So trim the fat if you must, or substitute with chicken breast.
Time: 1 hour plus marinating time
Makes 4 to 6 servings as part of a multicourse family-style meal
1 lb. pork butt, trimmed of fat if desired and cut into 1-inch cubes

3 tablespoons self-raising flour
1 teaspoon Shaoxing rice wine or dry sherry
1/2 teaspoon salt
1/4 teaspoon pepper
1 egg, lightly beaten
2 cups vegetable oil, divided
1 medium carrot, peeled and cut thinly on the diagonal
1 green or red pepper, cut into 1-inch squares
1 medium yellow onion, cut into 8 wedges and separated
1 clove garlic, minced
1 8-ounce can pineapple chunks, well drained (about 1 cup)
Sauce:
2/3 cup water
3 tablespoons tomato ketchup
---