Butternut squash pie with sorghum whipped cream
(Read article summary)
Feeling adventurous this Thanksgiving? Experiment with butternut squash instead of pumpkin or sweet potato. Top your unique pie with homemade whipped cream infused with sorghum, or another sweet syrup.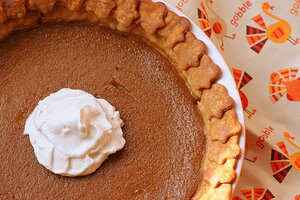 The Runaway Spoon
Butternut squash is one of my favorite fall foods. I buy whole squashes at the last farmers markets, and when I see pre-cut pieces in the store, I buy those up too. I make pasta sauces and quick soups, I roast and mash. Get creative and go simple.
I generally find myself with a surfeit of squash as I tend to get a little over-excited when they are in season. As I write this, I see there are three large squashes on my counter, and I know there is some leftover soup in the refrigerator.
Though butternut has its own unique flavor, I frequently use it interchangeably with pumpkin and even sweet potato, so I wondered how it would work in a pie, would it just be the same as standard pumpkin or sweet potato, or would there be a difference? And a little bit to my surprise, there is a quite a difference. Butternut squash is earthier, sweet, but with a rougher edge.
I worked with my basic recipe and added woodsy, warm spices that really highlight the unique flavor of the butternut, particularly aromatic clove. This pie turns out a beautiful dark umber color, rich from the spices and squash. A dollop of whipped cream, flavored but not overly sweetened with grassy sorghum is a perfect accompaniment. Serve this at Thanksgiving, or any autumn meal. I promise, your guests will be surprised and intrigued – and pleased.
For the pie
Serves 6
pastry for one 9-inch pie, homemade or store bought ready-to-roll
1 1/2-pound butternut squash
2 eggs
1 cup light brown sugar
1/3 cup heavy whipping cream
1 tablespoon bourbon [editors note: may substitute 1 teaspoon vanilla extract]
1 teaspoon ground cinnamon
1/2 teaspoon ground ginger
1/2 teaspoon ground nutmeg
---