Warm and savory pork pies
(Read article summary)
Try this tasty pastry recipe for a different sort of dinner. Serve a slice of pork pie it with a crisp salad, and add some fresh fruit for dessert for a delightful meal.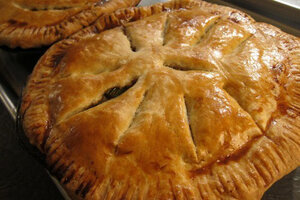 The Rowdy Chowgirl
These pork pies may redefine savory for all time. They are rich and meaty with enough gorgeous crust to make the filling even more of a pleasure to eat.
They taste of cozy evenings around the TV, but also of a chill foggy morning wrapped in damp wool, with cold hands warmed by hot pie, and of a brisk spring afternoon spent at a sidewalk cafe in a new city, slowly enjoying a crisp salad and a wedge of pork pie while watching the world stroll by.
Make these pork pies if you dare … if you are the sort who can grind your own meat with ruthless cold, fat-slicked hands, filling the air with the tang of blood and minerals, and then turn around and apply the light magical touch of a baker to producing a pie crust that is substantial enough to cradle that meat securely, while still being as flaky and delicately crisp as a croissant.
And if you do dare, I hope you invite me over.
Pork Pies
Slightly adapted from Carnivore by Mark Symon
8 ounces slab bacon, cut into medium dice
2 pounds ground pork
Kosher salt and freshly ground black pepper
1 cup chopped celery
2 cups chopped red onions
6 garlic cloves, chopped
1 pound russet potatoes, peeled and cut into large dice
1⁄2 cup chopped celery leaves
1⁄2 cup chopped fresh flat-leaf parsley
1 tablespoon chopped fresh savory
---