Korean fried chicken wings
(Read article summary)
These double-fried chicken wings render out the fat and results in an ultra crispy skin. A delicious ginger soy glaze and a sprinkling of sesame seeds are perfect finishing touches.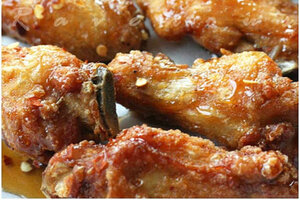 The Ravenous Couple
Southern California is a huge ethnic melting pot/salad bowl with large ethnic groups such as Vietnamese, Koreans, Chinese, Thai, Philipinos, and Latinos – and each group has made it's mark on the culinary landscape. One such culinary notch is Korean fried chicken wings.
While fried chicken may be something American's consider their own, the Korean style is also extremely delicious. Their method of a very lightly battered and double fried chicken wing renders out the fat and results in an ultra crispy and delicious wing. Add to that a variety of glazes such as ginger soy and spicy glaze, it's no wonder Korean fried chicken joints are popping up all over the West and East Coasts.
We don't deep fry very often but we had access to a deep fryer and had to make our version of Korean fried chicken wings for a birthday party. We adapted Maangchi's Sweet and Crispy Fried Chicken to make it similar to the ones we've had here in Los Angeles. The Korean chicken wings at Kyochan or Bon Chan have a very thin crust and so instead of using your typical flour and egg batter, we used Wondra flour which is a super fine flour – great for crispying things up – a tip we got from Chef Eric Ripert on his cooking show, Avec Eric.
---