Cookbook review: Cowgirl Chef by Ellise Pierce
(Read article summary)
A homesick Texan finds home in Paris by recreating Tex-Mex favorites with Parisian ingredients.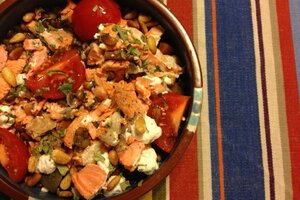 Kitchen Report
France, it has long been known, has the power to ignite a passion for food.
Julia Child overcame prejudice and disdain for Americans to earn her culinary badge from Paris Le Cordon Bleu cooking school in the 1950s. Her memoir, "My Life in France," details her love affair with the country and its culinary masterpieces. Food writer Amanda Hesser wooed a grumpy peasant caretaker in a walled kitchen garden at Chateau du Fey in Burgundy, France, and wrote about it in "The Cook and the Gardner." And even food blogger-turned author Molly Wizenburg of Orangette fame traces her food writing epiphany to the streets of France in "A Homemade Life."
There are countless other Americans who traveled to France and suddenly found a new direction in life centered on food. So revered is French cuisine that its principles are a bedrock in Western culinary schools. In November 2010, French gastronomy was added to UNESCO's "intangible cultural heritage" world list.
---