Meatless Monday: Spicy Indian tofu curry
(Read article summary)
Do something different for dinner with tofu curry. Get adventurous with authentic Indian spices like garam masala and Asafetida, and learn to swap the curry powder for a homemade curry paste.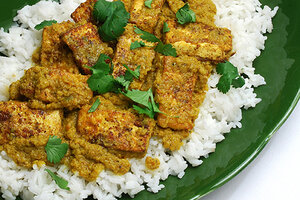 Blue Kitchen
We're not big on new year's resolutions at Blue Kitchen. There's something so rigid and formal about "resolving" to do something: "Be it hereby resolved that…." But there are things that we talk about doing, directions we talk about taking. The first post of the new year seems like a good place to explore a couple of them.
One is something we've actually been doing for a while – eating less meat. The other is getting into cooking more Indian food at home. This simple, spicy, big-flavored tofu curry let me do both.
The recipe is adapted from "Vegan Indian Cooking: 140 Simple and Healthy Vegan Recipes" (2012) by Anupy Singla. Published by the Agate Surrey imprint, the cookbook contains background on Indian cuisine and helpful tips on spices, spice blends and shortcuts. A former TV news journalist, Anupy has turned full time to sharing Indian cuisine with the world. Her first cookbook, "The Indian Slow Cooker," has been the No. 1 best selling Indian cookbook on Amazon since its release in 2010.
A vegan, Anupy cooks with oils rather than ghee, the clarified butter used by many Indian home cooks and professional chefs. There arguments for the health benefits of each approach, but she likes the lighter flavor and lower saturated fat content she gets cooking with oils. She also cooks with spices. Lots of them. She points out that spices don't always equal heat; sometimes they just produce big flavors.
Sometimes, though, as with this tofu curry, the heat is plentiful. And this was even with me toning it down for our Western palates. It was also wonderfully authentic. One reason is that, as you look over the ingredients, you'll note that while curry is in the name, curry powder isn't on the list. Like most Indian cooks, Anupy never uses curry powder. In India, the term curry is generally used to to refer to a dish that has broth or a sauce, as opposed to dry dishes. Those sauces vary from dish to dish and family to family.
---