Love in the new year, and learning to make Vietnamese spring rolls
(Read article summary)
Making Vietnamese spring rolls at home is easier than you might think. With a little practice rice paper, shrimp, pork shoulder, and veggies roll right up and become a delicious snack or side.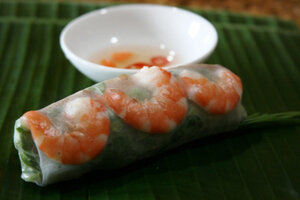 The Asian Grandmothers Cookbook
Choose love.
These two simple words have been on my mind since they popped out at me from a friend's Facebook post a few weeks ago. She was recapping her past year and she ended her reflection with "When in doubt, choose love." These words could mean many things to many people, and I've been thinking about what it means for me to "choose love."
2012 was a challenging year personally and love was often in short supply. Not that I wasn't loved, but rather that I wasn't a very loving person. I felt so drained I had no love to give. I had to get used to the fact that my husband was 6,720 miles away and 12 and-a-half hours ahead for an entire 12 months. And I worried (and still do) about his safety, every single day. Plus, I had to adjust to solo-parenting a toddler.
After a three-year hiatus, I worked very hard to develop a book proposal (one that I thought was very sellable and timely) that was quickly shot down. I have yet worked up the nerve to submit it elsewhere. And I'm sure anyone who lives close to their parents can relate to the stress of having them live a stone's throw away.
Did I mention I'm solo-parenting a toddler? I definitely have a newfound awe and admiration for single parents everywhere! While I admit 2012 wasn't all that bad – there was a trip to Vietnam to meet my husband, a paperback book launch – it was filled with plenty of angst and stress. I realize now that many of these events and circumstances were beyond my control. Yet I was riddled with unnecessary anxiety and/or reacted negatively to them.
In hindsight, I can come up with any number of, "What if?" scenarios.
What if I kept calm and didn't raise my voice at Isaac when he wasn't behaving the way I wanted him to? Then maybe I wouldn't be wracked with guilt in the thereafter believing I was traumatizing my son and ruining him for life.
---