Pebbly beach fruit squares
(Read article summary)
Stuffed with dried fuit, and baked into a warm pastry crust, these cookies are something special. Use any dried fruit of your choice, raisins, cherries, cranberries, apricots, ginger, dates, or prunes.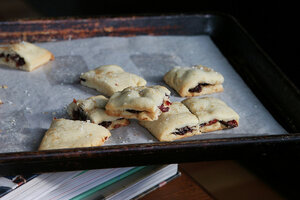 In Praise of Leftovers
For those of you aspiring to eat less sugar and more kale, I hear you. I'm with you. But on a cookie-baking roll. Forgive me.
Alice Medrich's "Chewy Gooey Crispy Crunchy Melt-in-your-Mouth Cookies" aren't helping matters. I haven't come across a baker that gets cookies like she does. As you know, I'm a cookie person. Just by looking, I'm able to tell a great cookie from an okay one, and a passable one from a don't-waste-your-calories one. And I'm also aware that cookies baked in most home ovens often don't turn out like the ones you might get at your favorite bakery. If you stick with Alice, she'll help you.
I could say a lot more about cookies and even my philosophy about having them sitting around the house. (The short version is I allow myself one when they are warm and about two more over the course of the batch/days. The rest go in the kids lunches or are given away as gifts.)
For Alice Medrich's pebbly beach fruit squares I had to read these directions carefully to visualize how these cookies are formed, but I found the dough easy to work with and didn't experience any problems. You can use any dried fruit, and she instructs to soak it in water, fruit juice, or wine to soften it. But only for 20 minutes. I soaked my dried cranberries in orange juice. Yum. And I used lemon zest and just mixed the softened butter and sugar with a spoon. Anything to avoid getting out the mixer. The kids and I pronounced these divine.
P.S. Alice is big on refrigerating your dough, which develops the flavor of the cookies, makes them less prone to spread in the oven, and makes your dough easier to work with. This dough requires 2 hours of refrigeration.
Makes 32 2-1/2-inch squares.
1-1/2 cups plus 2 tablespoons flour
1/2 teaspoon baking powder
1/4 teaspoon salt
8 tablespoons (1 stick) unsalted butter
3/4 cup granulated sugar
1 large egg
---