Glazed doughnut muffins
(Read article summary)
A cake-like doughnut with a sugary glaze are easily made in a muffin tin for a brunch get together.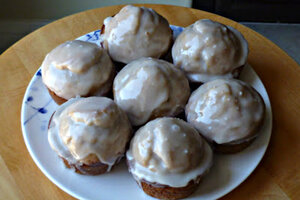 The Pastry Chef's Baking
These muffins are accurately named as they really do remind me of doughnuts – at least cake doughnuts rather than yeasted doughnuts. It could be the taste of cinnamon that reminds me of doughnuts, but it's also the glaze. (Confession: I didn't sift the confectioners' sugar or the glaze so you can see little lumps in the glaze.) They are delicious! As with any muffin recipe, mix sparingly, just enough to have the batter come together. If you overmix, the muffins won't have as tender a crumb or texture.
These would make for a good addition to an Easter brunch, if you're planning that far ahead. To make them as doughnut like as possible, let both layers of the glaze set before serving. Or serve gooey warm with runny glaze.
To avoid the lumps in the glaze, simply strain it before using. I find it's easier to strain glaze or frosting rather than sifting confectioners' sugar before using. If you sift the sugar to get out the lumps, tiny lumps can still form in your glaze as you mix the sugar with the liquid. Save a step and strain the glaze once it's made and before it sets.
Glazed Doughnut Muffins
From Sweet Pea's Kitchen
1/4 cup butter
1/4 cup vegetable oil
1/2 cup granulated sugar
1/3 cup brown sugar
2 large eggs
1-1/2 teaspoons baking powder
1/4 teaspoon baking soda
3/4 teaspoon ground nutmeg
---