Meatless Monday: Huevos rancheros pizza
(Read article summary)
Craving pizza with a twist? Try this Mexican-inspired pizza with eggs bakes into it. Start with a cornmeal crust and top with beans, onions, chiles, tomatoes, eggs, and cheese.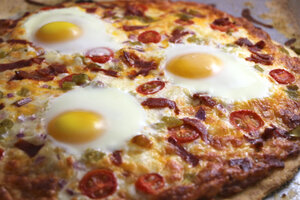 The Gourmand Mom
Last spring I strong-armed a couple of my friends into taking Irish step dancing lessons with me. (I actually didn't need to twist their arms too hard.) We three became the unlikeliest bunch of dancers you could imagine. It was a blast. We clobbered away through a few classes, along with an (almost) equally novice classmate, before the weather became too hot to continue in our dance space. At that point, we broke for the summer, with the intention of resuming classes come fall.
Well, fall rolled around and I sent an email to our instructor expressing our eagerness to continue. But we never heard back. After a few months with no reply, we'd become fully convinced that we'd been silently dumped as a result of our utter hopelessness in the field of Irish dancing. We couldn't really blame her. We truly are a hopeless bunch. But then, just as we were about to pack away our dancing shoes, I received a message explaining an email switch, along with an invitation to resume classes. We accepted, of course.
This time though, there are a few other adults in our class and a second instructor. Apparently, our new classmates danced all throughout their childhood and teen years. They're just picking up where they left off, which is someplace lightyears ahead of the rest of us. While we practiced basic skips, intently concentrating on not running into each other, one of our new classmates gracefully danced circles around us, quite literally.
It feels oddly like being stuck in the 'guppies' group, aside out advanced classmates in the 'shark' group. They're reading War and Peace, while we struggle through Ted in a Red Bed. Us four clumsy guppies stick as close together as we can without kicking each other. It's a level of comfort thing. We huddle close together, executing every drill as a unified group, in a fruitless attempt not to draw too much attention to ourselves.
---