Black pepper beef with Kampot pepper from the Pepper Project
(Read article summary)
Black pepper beef is a weeknight-quick classic Chinese stir fry. Onion, fresh ginger, red bell pepper, celery, garlic and lots of black pepper offer plenty of flavor. The Pepper Project helps Cambodian pepper farmers and communities.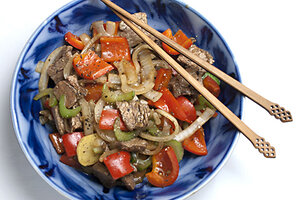 Blue Kitchen
One simple ingredient can often make all the difference when you're cooking. And now that's more true than ever. The ingredient in this case is black pepper – freshly ground, of course, instead of pre-ground and packed in a tin. Freshly ground peppercorns pop with flavor and fragrance, becoming a true flavor, not just background noise, and you can control the grind, from fine to coarsely cracked.
And in Cambodia, the Pepper Project is making a difference, with pepper. Run by the husband and wife team Tom Gordon and Cris Peterson, the Pepper Project is a not-for-profit enterprise devoted to introducing products of Cambodia to the United States. Through the sales of these products, primarily pepper, they support fair trade for farmers as well as organizations that protect street children, disabled children and victims of sex trafficking.
The Pepper Project imports organic peppercorns from areas in Cambodia that are approved with the United Nations Geographic Indicator designation. They purchase only from farmers who pay fair labor wages, and and donate 100 percent of their profits to Cambodian charities and projects. You can find out more about the Pepper Project and the work it does – and purchase Kampot pepper – at its website (www.pepperproject.org).
---