Korean oven-braised short ribs
(Read article summary)
Korean-style beef short ribs become tender and flavorful when oven braised with soy sauce, ginger, garlic, fresh pear, carrots, scallions, and daikon.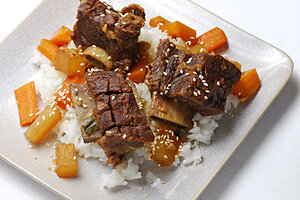 Blue Kitchen
One of the best things about exploring other countries' cuisines is shopping. Saturday found us at H Mart in suburban Chicago, conveniently at lunchtime. We headed straight to the food court, where we ordered generous, steaming bowls of pork and kimchi dumpling soup. H Mart is an Asian-inspired supermarket chain that started in Queens, New York.
The name is short for "Han Ah Reum," Korean for "One Arm Full of Groceries." You're lucky if you can get out of this sprawling treasure trove of all things Asian carrying just one armful of groceries. The vast produce section has beautiful examples of all the usual suspects as well as things hard to find elsewhere – lotus root, enoki mushrooms, turmeric (not the powder, but the actual gnarly little rhizomes), tiny, speckled fresh quail eggs, and so on. The specific ingredient I'd gone in search of was Korean-style beef short ribs. We left, of course, with our arms more than full.
Korean-style short ribs actually come in a few different cuts. One is also known as the flanken cut, in which the ribs are sliced thinly across the bone, with three or more bones in each slice. What I was looking for were more like the standard short ribs you see in the supermarket, only shorter – they're cut into two-inch (or so) sections. H Mart had both these cuts as well as others.
As winter seriously settles in, we're looking for excuses to turn on the oven and fill the apartment with meaty cooking smells. There's a dazzling array of variations on Galbi Jjim, traditional Korean braised short ribs, out there. One thing virtually all of them share is cooking them on the stovetop. I chose to oven braise them. Besides the reason stated above, oven braising wraps the whole pan in even, moderate heat instead of concentrating all of it on the bottom of the pan. However you cook them, the results are satisfyingly chewy/tender and delicious, flavorful but not spicy.
---