Baking for Boston: Peanut butter pound cake and lemon coconut bars
(Read article summary)
There's nothing better than sharing baked good with friends. A care package containing peanut butter pound cake with peanut butter frosting and lemon coconut bars went to Boston.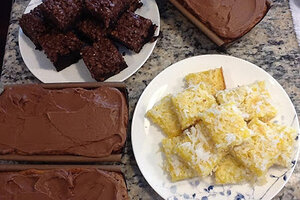 The Pastry Chef's Baking
Boston has been on my mind since the bombing at the Boston Marathon. I've consciously avoided the news coverage on the perpetrators – I think justice should be done but I refuse to rubberneck over the darker side of humanity. It would keep me too focused on the horror people can do to one another and there's just too much of that in the news.
I would much rather pay attention to and be inspired by the heroes the tragedy brought out: the first responders who rushed into the danger that others fled from; the bystanders who helped injured men, women and children; the police who worked to keep people safe; the journalists who sought to do responsible, accurate reporting despite the danger of their surroundings; and so many more examples of courage, compassion, and goodness.
Not surprisingly, one of my coping mechanisms to deal with tragedy is to bake. Most importantly, it's also to share what I've baked, which is what I did with the following recipes. My friends in Boston and in one case, the newsroom where one of them works, were the recipients of these. I like to share and I couldn't think of a more deserving group. Editor's note: We were very grateful!
It's always hard to mail anything with frosting in a care package but I really wanted to make this cake. I'd seen it on Pinterest a little while ago and I knew pound cakes kept better over several days and are better able to survive being mailed. It's hard to send a frosted bundt cake through the mail and expect it to make it intact after a 3,000-mile journey though, so I baked them in these paper loaf pans and left them in there to cool before I frosted them with the chocolate peanut butter frosting.
I kept the frosting fairly contained within the loaf pans and it was easy to completely encase them in plastic wrap, put each in a ziploc bag and line them up side by side in the mailing box, wedged in so they wouldn't move. I covered them with those plastic air packs from my (many) Amazon shipments so that there would be no space to move between the loaves and the top of the box. Editor's note: They arrived in perfect form.
That was the practical aspect of mailing them. Now for the taste. This made a lot of batter so I was able to get five paper loaf pans and a ramekin out of them. The ramekin was important since that was my taste test serving. First, let me set up that I'm indifferent to peanut butter. I like it well enough but if I had to prioritize a list of flavors, peanut butter wouldn't prevail over chocolate, caramel, coconut or lemon, for instance.
Second, I've previously mentioned I'm not a big fan of frosting. I either like my cakes plain or with just the barest smidge of frosting. I've been known to scrape frosting off of cakes and just eat the cake, no matter how many times my frosting-loving friends roll their eyes at me. Now that I've done that set up, let me tell you: I loved this cake.
The texture was amazing and the peanut butter flavor wasn't overwhelming. I also really loved the frosting. There, I said it. I loved the frosting. Not too chocolaty, not too peanut butter-y but a perfect blend of the two flavors. Plus it was a nice creamy texture that went well with the cake. Love.
I did discover later that I had likely underbaked the loaf pans a tad (I kept one back to bring to work and mailed out the other four) but, based on the feedback from my recipients, I don't think it was too underbaked as they seemed to like it. I got a flurry of very nice thank you emails from the newsroom – it's always nice to hear people enjoyed what you sent them. That was my tiny, tiny little part in trying to do good for others after that tragedy. Editor's note: They were delicious!
(Recipes on next page)
---