Yogurt lemon loaf with rosemary and walnuts
(Read article summary)
Flavored with hint of rosemary and topped with a buttery glaze, this lemon loaf makes a great gift for the end of the school year or a special person in your life.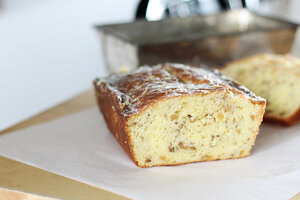 In Praise of Leftovers
It's Teacher Appreciation Week at Roosevelt Elementary, which means I'm doing some baking. Happily.
Sending my children off each morning to spend their day absorbing other people's values, playing with other people's children, and learning someone else's curriculum could be terrifying. Except it's not.
The public school down the hill from us is an amazing place on the planet. The teachers and staff really like another another, emotional intelligence is highlighted just as much as any other skill, and I usually hear staff and students laughing when I'm there. Things are serious and structured when they need to be, and playful and silly as often as possible. There's artwork everywhere, and little groups doing work around every corner – tutorials, gentle disciplinary conversations, peacemaking.
I always say we wake up in the morning with a certain amount of energy. We can waste it being touchy, annoyed, or feeling like outsiders, or we can make a choice to be engaged and present. Teaching is hard. And it doesn't pay very much. And you're ON for hours at a time in front of an audience that doesn't say thank you or even do you the courtesy of sitting still! But these Roosevelt folks? They spend their energy being present. And it shows in how my children are developing. That's pretty powerful.
This recipe is for you, Shelly. You light up that front office like fireworks, and I don't think you can imagine how much light and goodness you spread. Thank you.
Yogurt lemon loaf with rosemary and walnuts
Adapted from Melissa Clark's recipe for Chocolate Chip Pecan Loaf Cake, which I've adapted a million times. I adore her, her food sensibilities, her great writing, and the fact that this recipe just requires a spoon and a mixing bowl!
---