Banana bread bars with brown butter frosting
(Read article summary)
If you like bananas in any way, shape, or form, this recipe will be your bliss. A moist, almost fudgy, cake is cut into bars and topped with a brown butter frosting.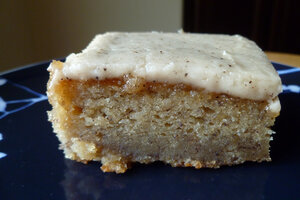 The Pastry Chef's Baking
So, you remember how I always say I only eat one taste test piece of whatever I make and give the rest away, even if it turned out and I like it? If something is really good, I might indulge in a second piece the next day but it would have to be pretty fantastic to warrant a second taste. So it might be something of an endorsement if I tell you I ate three pieces of this in the same afternoon. Yup, three.
The first piece practically made my eyes roll to the back of my head in gastronomic bliss. The second piece also went down easy. I probably had pushed it too far by the time I finished the third piece and a couple of hours later and I remembered why I usually eat only one (or two) pieces of something really good. But still, no regrets.
If you like bananas in any way, shape, or form, you must make these bars. I don't usually endorse something so wholeheartedly as I know we all have different tastes but seriously, try these! If you don't have overripe bananas on hand, go out right now and buy the most ripe bananas you can find then let them sit on your counter until they turn black. The wait might be tortuously long but let that be a lesson to you to have overripe bananas on hand for baking emergencies like this. Although now that I've used up all my overripe bananas, I have to start the cycle over because I am so making these again
If anything nonchocolate could be fudgy, that's how I would describe the texture of these bars. Don't overbake them or else they'll be more cakey than "fudgy" but don't underbake them too much either since bananas already add a lot of moisture to whatever they're baked in and you don't want it mushy or gooey but "fudgy." I baked mine to the point that the bottoms were still a bit dense but the top half was just perfect.
And once again, I have to say the frosting was perfect for these bars. Even if you don't like frosting, don't skip it! I ended up using only three cups of powdered sugar rather than four since I didn't want the frosting to be too sweet. When you make the frosting, be sure to whisk it well over the stove to emulsify the brown butter in with the rest of the ingredients.
---