Indian-spiced meatballs with cucumber mint raita
(Read article summary)
At a 'Temple Run'-themed birthday party these Indian-spiced meatballs were a hit with the younger guests, and grown-ups, too. Raita is a refreshing yogurt dip, because who doesn't love to dip?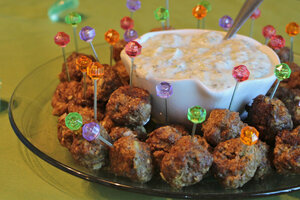 The Gourmand Mom
Anyone play the game, "Temple Run?" You know, the video game for phones and tablets where this great big, manic, hybrid gorilla-vulture creature chases your character as you dodge fire, rushing waterfalls, and treacherous cliffs at the same time as trying to collect shiny medallions and green gems? That's the one.
We're big fans of that game around here, bordering on obsession, to the point that I had to give it up for Lent to prevent myself from spending every second of my already minimal free time dodging fire and escaping gorilla beasts. Well, when my oldest son requested a Temple Run themed birthday party for his 6th birthday, I promptly replied, "No, they don't make Temple Run party supplies. I'm not even sure how we'd do that. Think of another theme. How about pirates or rock 'n' roll or superheroes?"
But, my son is not easily dissuaded once he's stuck on an idea, so he persisted with his request. And I persisted with offering alternate ideas. Construction trucks, a luau, dinosaurs??? But after a bit of brainstorming with some friends, a vision for a Temple Run themed party started to evolve. We'd construct a Temple Run obstacle course in the backyard. There would be fire and waterfalls and a cave. There would be green gems and monkeys and tropical birds.
There would be a terrifying gorilla chasing our young party guests through the course, as they attempted to gather gold medallions and green gems to redeem for goody bag treats. Perhaps we'd need to ask parents to sign a waiver as they arrived with the party guests. (Kidding, sort of.) My husband was skeptical about this insane plan, but I'm just about as hard to dissuade as our 6 year old, once I'm set on an idea.
---