Fourth of July recipe: Red, white, and blue shortcakes
(Read article summary)
Fourth of July shortcakes deliver the sweetness of in-season berries along with a natural red, white, and blue: a strawberry rhubarb sauce, whipped cream, and blueberries for garnish on a candied ginger shortcake.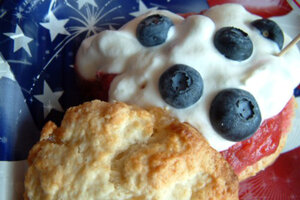 Kitchen Report
Red, white, and blue shortcakes are a standard Fourth of July treat in our family. Just a simple, warm shortcake topped with red strawberries or raspberries and blueberries with whipped cream. They come together easily, especially the years we celebrate on the Cape shuffling between the lake, riding bikes to watch the Chatham parade, and getting ready for fireworks.
This year I got to dreaming a bit. What if I kicked up the flavors a notch? And that is how candied ginger shortcakes with strawberry rhubarb sauce came to be.
Someone asked me the other day: What is the difference between a biscuit and scone? The answer: not much. Scones are sweeter with added sugar or dried nuts. And they are also used differently. Biscuits sop up gravy or sit alongside a steamy bowl of soup. Scones can serve as a quick breakfast meal, or a tea time treat loaded with jam and freshly whipped cream.
Shortcakes are really just big scones. But some people really like big scones anyway, so I say a shortcake is one you pair with fresh berries, like these candied ginger shortcakes with strawberry rhubarb sauce and blueberries.
I used my standard scone recipe for the base, and cut up small pieces of candied ginger. That part was easy. But I had to root around a bit to come up with strawberry rhubarb sauce. In the end, I took the best of what I found and combined it this way: I cooked down the rhubarb with orange juice and agave syrup. Agave is used as a plant-based sugar substitute for honey, dissolves easily in cold drinks, and is a popular ingredient in vegan recipes. I happened to have some on hand. It's sweeter than sugar so you don't need as much, instead of 3/4 cup of sugar, I used half a cup of agave. The syrup brought a nice consistency to the sauce, even though some research indicates that agave has more fructose than high fructose corn syrup. It's really your choice for what kind of sweetener to use. Rhubarb sauce breaks down into mostly mush, so stirring in the strawberries (not crushed) after the rhubarb has cooked adds good texture and is visually pleasing.
---