Grilled pesto shrimp
(Read article summary)
Pesto is a perfect summer flavor. Marinate shrimp in your favorite blend before grilling and serve up this tasty alternative to backyard burgers.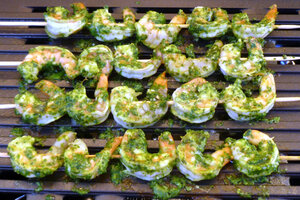 The Pastry Chef's Baking
Want something a little different from hamburgers and hot dogs? Or, more importantly, something that leaves room for dessert afterwards? Then try these pesto shrimp skewers. I love both shrimp and pesto so I can't imagine why I haven't made something like this before. I used to eat a lot more pesto when I grew my own basil a couple of summers ago but ever since, I haven't had it as often. But I was thawing some shrimp and wanted to do something different with them so I jumped at this recipe I found on Pinterest from Skinny Taste.
First I had to hunt down some basil. I knew Trader Joe's sold the basil plants but I was looking for just the leaves. I finally found them in a plastic box in the organic section for $2.69. The basil plants, which carried a lot more leaves and were lushly thriving, were $2.99 each. The finance nerd in me couldn't not buy the live plant knowing basil is a creature that keeps on giving over and over again, even after you cut off the first harvest and it goes from lush to shorn. Past experience has taught me that it'll go from shorn back to lush very shortly and, for 30 extra cents, I was looking at being well supplied with multiple pesto dishes from 1 basil plant. Despite not having a green thumb, basil is the one plant I haven't killed and even managed to make grow which tells you it's likely to grow regardless of what you do to it.
---