A tailgating recipe challenge and cookbook giveaway
(Read article summary)
Hey, football fans! Got a favorite tailgating or game day recipe? Share it with Stir It Up!, and you could win a signed copy of ESPN's Todd Blackledge's cookbook, 'Taste of the Town.'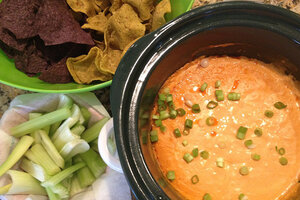 Cathy Edwins
Nothing says fall like college football. Whether you've scored student tickets and are cheering on your team from the stands, or you're reliving your glory days from the couch, chances are you've got a favorite game day snack.
Maybe it's nachos with three types of cheese in honor of the Wisconsin Badgers, blackened chicken Louisiana State University style, or mango salsa for the University of Miami. We're talking about those tried and true football recipes that have been with you through the good times and the bad – the tailgates that got rained out, the championship games that ended in euphoria, and the never-ending patience of rebuilding seasons.
Here at Stir It Up! we love a good tailgate or a watch party, and we know good eats go a long way at either – no matter who's winning. So when Todd Blackledge's "Taste of the Town" came across our desk we knew we'd scored big. The book is a spin-off from Mr. Blackledge's "Taste of the Town" segment on ESPN. A former quarterback for Penn State and the Kansas City Chiefs and a college football analyst, Blackledge began airing visits to his favorite restaurants while on assignment in college towns. "Taste of the Town" took off overnight.
"For 15 years I had worked diligently to carve my own niche as a respected college football analyst, and in a few short weeks I had become better known as a food guy than a football guy," Blackledge reveals in the introduction to his cookbook. He has over the past five years covered 60 different restaurants in a minute or less, leaving many details on the cutting room floor.
---