Boxing Gym: movie review
It's boxing minus all the malarkey in "Boxing Gym," in documentary director Frederick Wiseman's latest.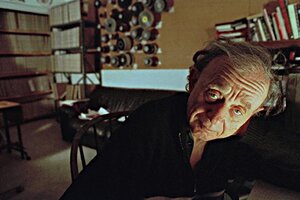 Jared Leeds/AP/File
"Boxing Gym" is the 38th feature by our greatest documentarian, Frederick Wiseman, and his second film about dance in a row. I don't mean this entirely facetiously. His last movie, "La Danse – le ballet de l'Opéra de Paris," was one of the rare dance movies where the performers' movements were shown in full instead of being fractured into snippets by pyrotechnical auteurs. Wiseman's respect for the integrity of the body is all of a piece with his respect for the integrity of a person, a situation, a mood.
He is the least intrusive of great directors, and "Boxing Gym," which is about a gym in Austin, Texas, is so offhandedly observant that, for a while, you may wonder if much of anything is really going on. Wiseman and his longtime cameraman John Davey show us the rituals and banter that play out in this gym, which caters to men, and a few women, from up and down the social ladder. We are so used to boxing movies that heighten the violence that "Boxing Gym" comes across as a restorative. It's a boxing movie minus all the bull that usually goes with it. Grade: A- (Unrated.)
---
Follow Stories Like This
Get the Monitor stories you care about delivered to your inbox.