Streetlight bonding
When a time change threw off his daughter's sleeping schedule, they made the most of the predawn world.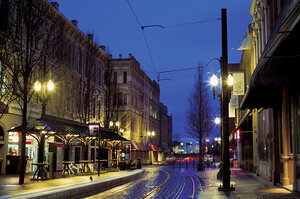 Newscom/File
It takes a toddler to point out the absurdity of time zones.
Clara was awake; no esoteric debate about time was going to change that. And my sister-in-law's apartment was too small and too still to hide a 2-year-old's exuberance in the wee hours of the morning.
As Clara started tugging on her mother's nightshirt, I looked out the window. The unfamiliar Portland, Ore., streets were ink-black and wet. The frozen ground we'd left in Maine seemed to have thawed overnight after we flew to the Pacific coast.
Clara's mother was unresponsive, so Clara started singing a song. It was loud and wouldn't last long.
Normally, my wife shouldered the responsibility of parenting our daughter with such gusto that Clara had little desire to spend time away from her. Clara was smart enough to understand the return on investment of engaging with her parents; Frances was a great plaything and she had a boundless supply of milk. Why settle for anything less?
Only through persistence and sleight of hand would Clara accept an invitation to go out with Papa. I had to hit her up at the right time, with the right tone, and when her mother was not in the room. Anything less than perfect execution ended in tears.
Clara's singing grew shriller. Frances didn't move, but I could hear her sister-in-law shift from across the apartment. I looked outside again. The streets were quiet and open, big enough for a big voice.
"Clara, let's go find somewhere to get something to eat," I suggested, trying to keep my tone casual. Desperation never played well.
"OK."
I became a whirling dervish of clothes as I hustled Clara out the door. There could not be any room to experience buyer's remorse. We stumbled out into the dark, Clara wrapped in my coat, her feet bare.
We blinked among the houses and streetlights, neither of us knowing what to expect. It was quiet, save for a lone bird chirping tentatively in hope of morning and the distant shush-shush of cars. Our breaths puffed out before us. She looked up at me; now what?
---