How New Orleans weathered Gustav
From levee-buttressing heroics to beefed-up security, the Crescent City charts a post-hurricane course.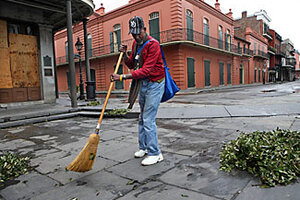 Melanie Stetson Freeman/The Christian Science Monitor
New Orleanians and the world held their collective breath Monday as hurricane Gustav huffed and puffed but ultimately failed to blow this old port town down.
As a meteorological monster, hurricane Gustav was no hurricane Katrina, coming ashore as a Category 2 hurricane, compared with Katrina's Category 3 winds, and veering far enough west to do little but break tree limbs and fling a few truck-bed liners around New Orleans.
"The levees held, the levees held," New Orleans City Councilor Cynthia Willard-Lewis breathily reported. "Our spirit is unshaken."
Gustav's diminished strength and the much-ballyhooed improved cooperation among state, local, and federal officials certainly had a role in the city's survival. But the real keys were the up-armored levee system, a small task force of National Guard soldiers, heroic actions on storm-whipped levees, and, ultimately, a shift in Gulf Coast residents' view of their precarious perch on the Gulf.
"This was a good way for us to test ourselves a little bit," says healthcare worker Macon Moore, walking his dog, Rocky, in the mostly unscathed Garden District.
Even worries about Gulf oil rigs and refineries subsided, with the price of a barrel of sweet crude dropping $4 Monday. Although 1,836 people died as a result of Katrina, at time of writing seven were reported to have perished in Gustav, including a family of evacuees escaping to Atlanta.
---