Getting ahead of the next big storm
Government agencies and volunteer organizations are testing a new system to regroup and respond to multiple hurricanes.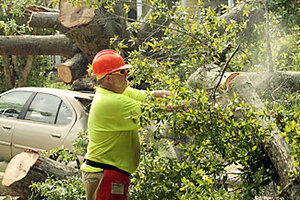 Logan Mock-Bunting/Getty Images
In the post-Katrina emergency management world, the buzzword is "dynamic regrouping."
In essence, it's the Federal Emergency Management Agency's new proactive response philosophy, using clear-cut lines of communication to move resources along each storm's track to be ready when it strikes – an unprecedented real-time collaboration between soldiers, civilian emergency professionals, and volunteers.
As the US now faces a triumvirate of working cyclones, the new system is undergoing its first trial by fire. With hurricane Gustav and tropical storm Hanna already ashore, and hurricane Ike lining up to strike, the emerging question isn't whether there'll be enough helicopters or rescue boats on hand, but how emergency managers will fill critical volunteer slots ranging from shelter workers to front-line healthcare personnel.
"If hurricanes keep slamming in, FEMA's ability to deploy volunteer agencies is greatly hampered," says Tom Kirsch, a medical response adviser to the Red Cross in Baltimore. "Every agency in the country, whether volunteer or government, is going to be faced with huge stresses. The depth of resources nationally, it's not a deep bullpen there."
With two major storms ashore, the system has mostly worked so far, as thousands of primarily Red Cross volunteers helped out on the periphery of the massive, but mostly orderly, Gulf Coast evacuation that preceded hurricane Gustav.
---