A global online push for compassion
The project to promote the golden rule has attracted 100,000 visitors from 181 nations in its first week.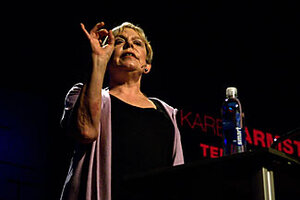 Andrew Heavens/TED/MCT/Newscom
The world needs more compassion.
That is the premise for charterforcompassion.com, a new website that's inviting people all over the globe to draft an online charter aimed at putting the golden rule at the center of daily life. Participants are encouraged to share their own stories of compassion, define the idea, and propose specific steps that societies can take to engender it.
In the first week since its Nov. 14 launch, more than 100,000 unique visitors from 181 countries participated. Over the next three weeks, the project aims to gather as many ideas as it can and synthesize them in February through a multifaith "council of sages," which will craft a final document.
"Wherever I go, whether in the East or the West, I find people hungry for a more compassionate world and a more compassionate expression of their own faith," says author Karen Armstrong, the guiding force behind the project, in a phone interview from Britain.
The project has attracted influential thinkers. Among Ms. Armstrong's council of sages are Archbishop Desmond Tutu of South Africa; Tariq Ramadan, professor of Islamic studies at Oxford; and the Rev. Dr. Joan Brown Campbell of the Chautauqua Institution. She herself is the winner of the 2008 TED (Technology, Entertainment, Design) prize, which gave her $100,000 and "one wish to change the world" with the collaboration of leading thinkers from TED. Her wish was to create the charter, as a grass-roots manifesto.
---