Colleges offer no-frills degrees
A less-expensive education is the appeal at stripped-down satellite campuses.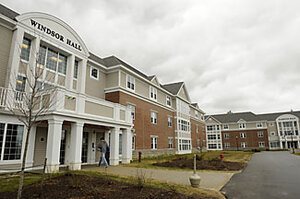 Mary Knox Merrill/Staff
Kaileen Crane was hardly interested in the hefty price tag that comes with the traditional college experience. So she's paying $10,000 a year for the Advantage Program offered by Southern New Hampshire University (SNHU), a private college.
Forget about campus housing. Or a meal plan, or a gym with a climbing wall. This program is about the basics – core courses at a bare-bones satellite campus. But the price is less than one-third of what it costs for tuition and room and board at the main campus in Manchester.
"It's close to where I live, it's close to where I work, and the cost is just so much cheaper than a lot of other places," says Ms. Crane during a break from classes in an office building in Salem.
Shopping for value is "in" these days – especially when it comes to big-ticket items like a college education. Public universities and community colleges traditionally have represented low-cost options. But now, some private colleges – and at least one state's public program – are trying to come up with cheaper pathways to a degree.
SNHU president Paul LeBlanc calls the Ad­­van­tage Program a "low-cost airline equivalent" in higher education – "a high-quality academic experience, but not a whole lot else." Others liken it to an economy car or a meat-and-potatoes meal.
If a substantial number of colleges were to offer no-frills options like SNHU's, "they'd make a huge step in tackling the root causes of the cost problem," says Jane Wellman, executive director of the Delta Cost Project in Washington, which analyzes higher-education spending.
---