GOP's last bullet in healthcare reform battle: public opinion
Republicans have ratcheted up the rhetoric against the Senate healthcare reform bill during the past two days. They hope to capitalize on public doubts about healthcare reform.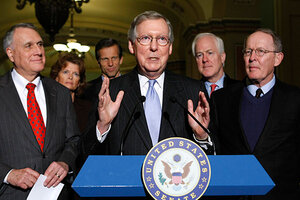 Kevin Lamarque/Reuters/File
Debate on the Senate's healthcare reform bill is likely to end in the first hours of Monday morning, but Republicans are not planning on going quietly into the night.
Along with two feet of snow, Washington has gotten a fresh blast of partisan rhetoric since Democrats nailed down their crucial 60th vote Saturday morning.
Senate minority leader Mitch McConnell said the bill was "an absolute outrage being perpetrated on the American people."
Referring to the deal that won the vote of Sen. Ben Nelson (D) of Nebraska, which includes the federal government picking up Nebraska's Medicaid expenses, Sen. Richard Burr (R) of North Carolina said: "You have to compliment Ben Nelson for playing the price is right."
On CNN's "State of the Union" Sunday, Sen. Lindsey Graham (R) of South Carolina mocked President Obama's campaign slogan – "change we need" – saying the healthcare bill was built on "backroom deals … amounting to bribes." He added: "Is that change?"
---
Follow Stories Like This
Get the Monitor stories you care about delivered to your inbox.