Bernanke vote in the Senate gives Fed chairman another term
Senators approved a second term for Federal Reserve Chairman Ben Bernanke Thursday to avoid turmoil in world financial markets. But the Bernanke vote saw 30 members oppose his nomination.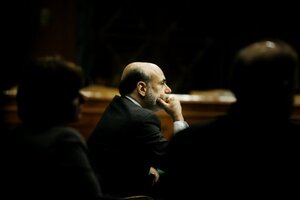 Jose Luis Magana/AP
Federal Reserve Chairman Ben Bernanke won a second term on a bipartisan vote in part because many Senators believed that rejecting him could roil world financial markets.
The Bernanke vote Thursday was 70 to 30 in his favor.
"A vote against confirmation would unnerve investors and exacerbate uncertainty in an economy that needs confidence and security, not volatility," said Sen. Robert Menendez (D) of New Jersey during debate on the Senate floor, expressing a sentiment shared by a number of his fellow lawmakers.
Originally appointed Fed chief by President George W. Bush, Bernanke was tapped for a second term last August by President Obama. However, his road to Thursday's reconfirmation vote was unexpectedly rocky.
Rocky road to a second term
In part, this was due to the voter response to US bailouts for banks, auto firms, insurance giant AIG, and other financial institutions. The mild, professorial Bernanke, head of a semi-autonomous agency whose actions are difficult to understand, quickly became the target for this populist ire.
"I understand there is this populist fervor around right now … and populism usually has to have an enemy," said Sen. Judd Gregg (R) of New Hampshire, a Bernanke supporter, during Thursday's debate.
---